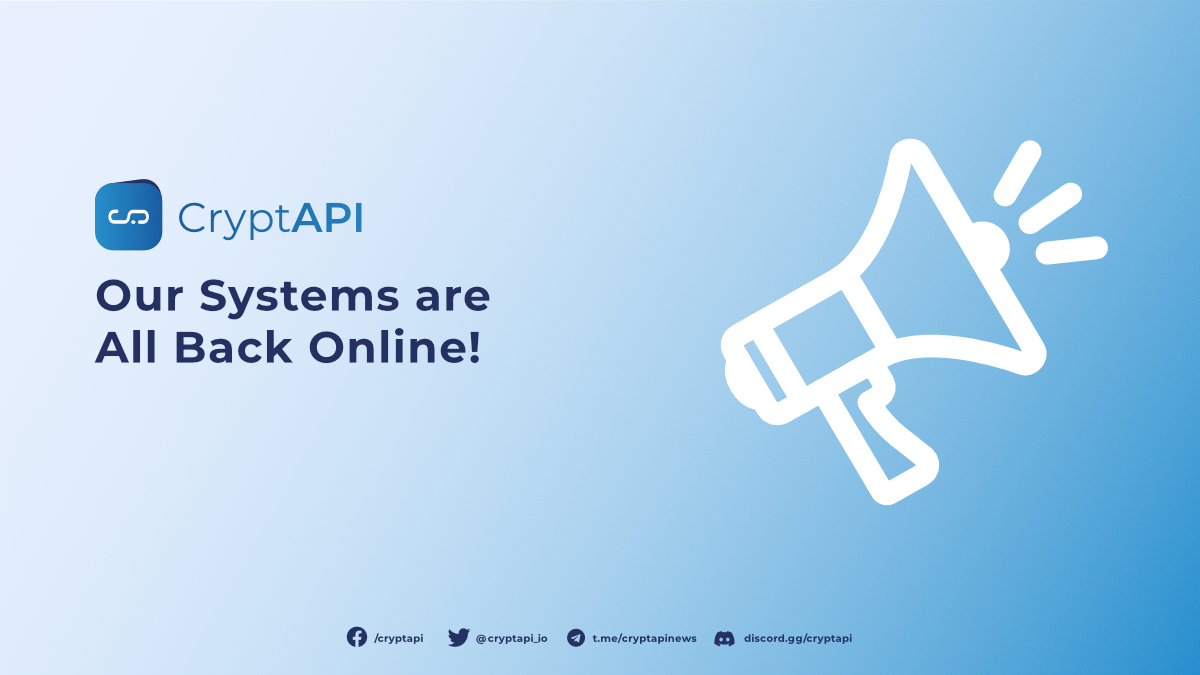 Our Systems are All Back Online!
4 months, 2 weeks ago
At CryptAPI, our top priority is to provide exceptional customer service and maintain transparency with our clients. We understand that our customers place their trust in us to ensure that their transactions are secure and hassle-free. However, we recently (19/05/2023) experienced an outage in one of our databases that left some of our customers wondering what happened.
Around 02h00 UTC, an automated maintenance from our hosting provider, took place in one of our databases. Unfortunately, our hosting provider introduced some misconfigurations into the system, which caused issues for our clients. As soon as our team identified the problem, we immediately tried to troubleshoot the root cause. However, it quickly became clear that the issue was out of our hands and unrelated to our systems.
We contacted our hosting provider and escalated the issue to top priority. While our hosting provider acknowledged the issue and claimed to be working on a solution, they were understaffed due to a holiday in France (where the data center is located), which delayed the issue's resolution.
Throughout the ordeal, we kept our customers informed of the situation and worked closely with our hosting provider to assist them with the issue while also devising a plan B. Fortunately, our hosting provider found the misconfiguration and fixed the databases, and we began restoring system functionality gradually.
We want to apologize to all our customers for this unprecedented downtime and thank them for their support. We understand the importance of maintaining a reliable system and are committed to ensuring that our customers' transactions remain secure and hassle-free. At CryptAPI, we remain dedicated to providing exceptional customer service and maintaining transparency with our clients.